ok, so this is a map that i made, the purpose of it... well, the name says it all... :-D
and now the explanation. map consists of 5 areas, each has its own purpose and it doesn't have anything to do with the other. they are put together so more ppl at the same time can practice, same or different things. so this is the map in hole: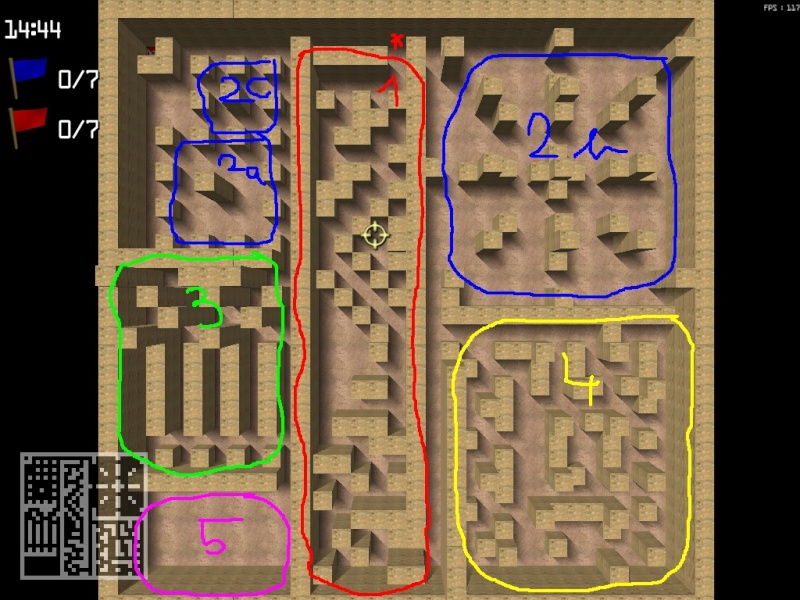 Area #1
Purpose:
to practice dodging walls... sound silly but it isn't... :-) (i am sure everybody were in situation when they were stuck by the wall corner...)
How To Train:
you start at the X spot (touching the wall) and try to go trough the maze as fastest as you can. i have measured how long it takes and the following are the results - 17sec (you are God of dodging walls), 18sec (excellent), 19sec (above average), 20-21sec (average), 22-23sec (doing smth wrong), 24-xy sec (man, buy a new keyboard!!!)
Area #2
we have a, b and c parts of map. the principle is the same for all of them...

Purpose:
to practice SMG moving&shooting technique
How To Train:
in all parts of map, you
constantly
shoot into the middle pillar while circulating around it. what you have to do is to hold your
mouse on the pillar
while
not touching the walls
when you pass beside them! extra possibility is to follow the route of green and blue line in the picture.
Area #3

Purpose:
to practice moving&shooting with long ranged weapons
How To Train:
you have to constantly move in the part
above the red line
, trying not to touch walls and hitting the part of walls that are marked blue.
Area #4

Purpose:
to practice primarily, using grenades and close ranged weapons (shotgun, flamethrower...) but can be used for practicing other weapons
How To Train:
if you play alone, then you use the walls to see how and where grenades have to be thrown to land where you want it but should be more used for two or more players playing in it at the same time (ffa). the only spawn point in the map is located in the entrance of this little maze so it should be fun to play. (if you want you can expand your movement to other parts of map as long as it doesn't disturb anyone else training in the map!)
Area #5
Purpose:
for demonstration simple things and techniques that require empty place (read: didn't know what else to put in the map... :-D )
How To Train:
no coment
-- i will change a bit map but the main principles are the same so use it to become better (and have fun... :-))
(for those that will put up the server) (not yet done)
-- this is link where you can find this map. download it and put it into the map file. after this, add it in the server.
http://www.speedyshare.com/220755115.html